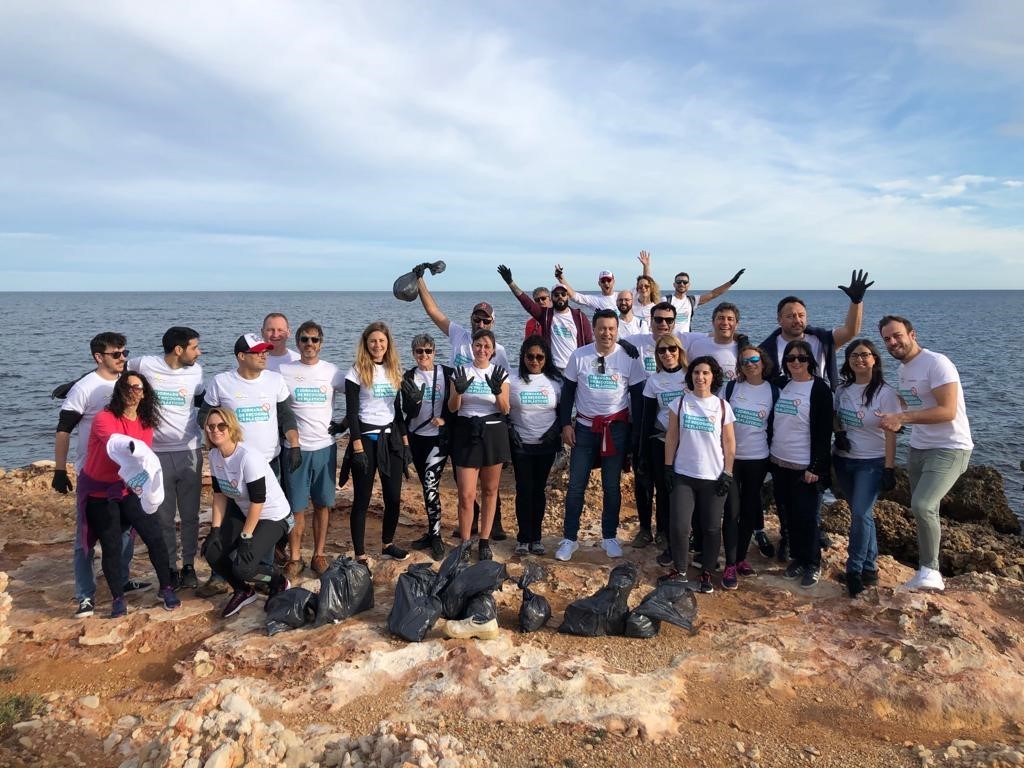 1st Beach Clean-up Day Marina de Denia X Hammeken Cellars
Last 29th November, Hammeken Cellars' team joined forces with Marina de Denia, in the first plogging event ever celebrated in Marina Alta county.
Back
What is plogging? It's a new approach to residue collection, that has its origins in 2016 in Sweden, consisting in mixing collecting residues from natural environments with physical activity. Its fanbase is increasing steadily worldwide.
Hammeken Cellars is always committed with the environment, with special attention to the plastic issue, that ends up polluting the oceans, and, unfortunately, too often is swallowed by animals.
Thus, as a company policy, we make our reservations through Goodwings, a hotel booking platform that donates part of the turnover to the non-profit organization of the choice of their customers. We have chosen Plastic Change, a Danish company that dedicate their efforts to clean the oceans from plastics, as well as environmental education. Also, we have decided to reduce our single use plastic usage, replacing the water bottles with reusable glass 50cl bottles.
One of our objectives is to get involved and contribute positively with the community here in Marina Alta. We were looking to cooperate with a company with the same concerns and a well-established and recognized activity in the area.
Marina de Denia is a local company that, besides managing and servicing the port and its facilities, has been organizing all kinds of events and activities in the area for the past 25 years, and always taking into consideration the protection of the beaches and the surrounding waters of Denia. Every year they organize different initiatives for picking up residues, be it in the beaches or inland, and also in the sea. They also cooperate in similar activities in different regions of Spain.
Last Friday, we were 28 people, from both companies, working hand in hand. We took the route from Marineta Cassiana and up to Punta Negra beach, covering 3 km of beaches each way. We were pleasantly surprised to notice the beaches were much cleaner than we expected; nevertheless, we still managed to pick 15kg of garbage, amongst others, cigarette butts, plastics, fishing nets, etc.
We were blessed with an amazing weather, even though it was almost December. A sunny, warm day, with a very pleasant breeze, and the best company were the icing of the cake.
Back in Marina de Denia's offices, our friends from Reciclamás were waiting for us to give us a talk on the issue of the residues, and the importance of separating the different materials properly, to maximize the efficiency in the recycling process. As it is necessary to separate scrupulously the different types of paper, carton, plastics… which need to be handpicked before being ready for processing. We were really flabbergasted to know that in Spain we throw away 487Kg of residues per person per year (2017, Eurostat), below EU average, but still a huge amount. It was great chat that raised even deeper awareness and concerns, amongst the listeners.
Right after, we proceeded to select and classify the residues that we had collected, and we did report the figures to Ecoembes, through their application Elitter.
And after all the hard work, we celebrated the great work with some excellent wines, of course!
We would like to thank from here the team of Marina de Denia for their help on preparing the activity, as well as their leading and participation. Likewise, thanks to Reciclamás for their time and great presentation.
This is our first event together, but surely it won't be the last.
Read it in Levante-emv
Readi it in Denia.com