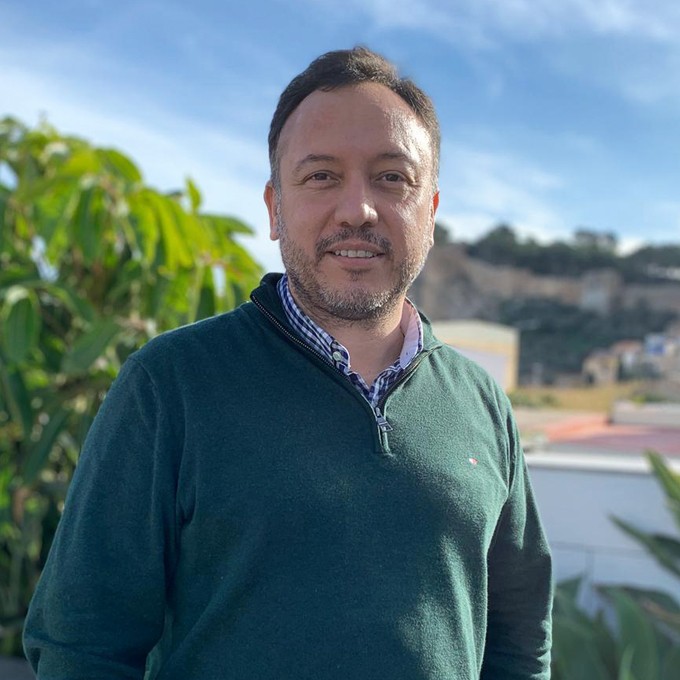 Meet our Winemaking Director, Marcelo Morales
Marcelo Morales (born in Chile, some years ago…) joined Hammeken Cellars in May 2019. We've been working side by side for almost 9 months, yet we didn't have the chance to have a "proper" conversation. Finally, we managed to sit and talk. This is the result.
Back
Paloma – How and why did you get in the winemaking world?
Marcelo – Well, I studied Agricultural Engineering, because I was seduced by the idea of growing things, of working with products that are "alive". When you start working in this field, suddenly you feel as if you're leaving the product halfway: you sell what you grow but without further processing; is as if it's unfinished. I think it was on the third year at college when I got in touch with oenology. Besides, a relative of mine owned a little cellar. That's when I realized how different this world is. Wine is a product that grows with you, it stirs up your creativity, and I find this really enticing.
I instantly loved the world of winemaking, I got really hooked up and after that moment, I did not want anything more than become an oenologist.
P – So, it started as a mere curiosity and became your passion. I find your mental process very interesting: from wanting to grow products, to feel the need of finishing and rounding them up, while giving wings to your inner creativity…
M – Yes, indeed!
P – Born and raised in Chile… How did you end up in Spain?
M – The first time I came here was around 1996; I stayed for over a year and a half, studying a master's degree. Then I went back to Chile, but every year I would come back to Spain, in time for the harvest.
In 2001 I got offered a job that was very difficult to reject. I had to start a project from scratch. A huge project. It was amazing to have this opportunity with them, create a full range of wines!!! And that was… 19 years ago! Wow!
P – Do you miss Chile?
M – Yes… mostly my family. But my brothers come here often, and I try to go as much as possible. This year I wanted to go, but with all the changes… (smiles). Other than that, I love Spain, it's a wonderful country, fun, you can do anything… I love the quality of life here. It's worth it.
P – And you collaborated with your previous company this whole time?
M – Yes, yes…
P- You've been really successful, as well…
M – Actually, yes. In the beginning the main product of the company was bulk wine, and they produced a very little amount of bottled wine. We turned it around and eventually almost 90% of the production was quality bottled wine. We managed to improve the concept people had about the wine in the area, and we put the Cariñena in the map…
P – Success and tons of prizes… You've collected over 200 medals through the years…
M – It's been an interesting journey. When I landed in Cariñena, their initial idea was to create a Cabernet Savignon, as this varietal was then "in fashion". But I insisted that I wanted to work with the local varietals, garnacha and cariñena. They didn't think that was a good idea, that those varietals were not good enough…
P – And what happened then…
M – Then, the very first young wine made was a cariñena, and it won the best prize (Gran Oro) in the very first wine fair we presented it; I remember it was in Madrid. To be honest, I felt very lucky, and this convinced the company that my vision was the way to go, and so ever since then we focused in garnacha and cariñena, disregarding foreign varietals.
P – You're famous for your excellence working with garnachas
M – That's true, but the cariñena varetal holds a special place in my heart…
P – So, after all, it's clear you were right about your vision, however, how did you get to that conclusion? How do you know what's good produce and where it's important to invest your time?
M- The key is to be able to really see your surroundings. I mean, you go to a new place, say, Ribera del Júcar, and then you see marvellous tempranillos, amazing bobals… and then, to have the opportunity and freedom to redirect the projects accordingly.
Each wine region has its own characteristics, that make them unique, unrepeatable, there's no reason for trying to be something else…
The advantage of coming from a different country is observe things from a different point of view…
P – So, why did you choose Hammeken Cellars as your next step in your career?
M – After so many years working in the same company, I felt that I could not add anything more to the project, I started to feel that I wanted to do something different. And I knew the Project was in safe hands. So I started looking outside.
I got in touch with different wineries but most of the projects didn't offer the freedom I was looking for.
Then Hammeken Cellars came in. I knew them for a long time. I loved how they worked in different regions and appellations, everything is diversity and innovation, a lot of new and exciting projects, the way of work, so modern and spontaneous… I've always liked that about Hammeken Cellars.
I'd travelled a lot around Spain, and I've tasted tons of wines… but that's totally different from actually working in different regions and appellations… then you actually see the full potential, and discover new wine regions you've never considered before…
The opportunity to work in so many different areas, creating amazing wines that are also very appealing commercially… Well, there are very few companies that can offer that. Plus, the freedom to explore…
P – Hammeken Cellars is a 100% privately company, owned by two shareholders, and we do not have the pressure to deliver on tight deadlines or the need to follow strict guidelines imposed by third parties. We consider ourselves an "unconventional family", because we're an unusual family business: we are convivial and work hard together and have fun together as well. Has this had any influence in your decision to join the project?
M – Well, as I said before, that's exactly what it is. This spontaneity philosophy is what favours creativity. That's definitely not possible in other businesses that need to comply with external demands that have nothing to do with wine.
The first thing you realize when you come into the office, is the amazingly positive environment, happy, gentle, familiar… there are not "strong" hierarchies, but people with different responsibilities… and the major shareholder mingles and acts like any other employee. Everything helps to create a vibrant environment, where everybody is more receptive and communicative.
P – If you were born again… what would you like to do? Would you repeat it all over again? Would you be a winemaker?
M – Undoubtedly, yes!!! But there is a thing I always wanted to do… I think I will do it the day I retire… (he laughs…) Well I always wanted to paint, but I never seem to have time… And something else, I always wanted to live close to the sea… but that's already happening, since I moved to Denia. By the way, I love it here! It's a medium sized town where you can find and do whatever you want…
P – How do you define work-life balance?
M – As a winemaker I know there are times of the year when resting is not on the agenda, and I can only work, but I actually like that. Then, believe that we all need leisure time to rest, to be in peace. I can explore my creativity when I'm at home, sipping a glass of wine, that's when I feel my mind opens. On a daily basis I tend to solve issues, and I often use my leisure time to think on how to improve my work, rather than not to work.
P – Define success…
M – All the things that I've yet to achieve...
P – I love it! I make it mine!
Another company that you admire… It can be in the wine industry or not…
M – I have some friends in Chile, they started a winery called Garage Wine. They started making wine in the garage of their house. They've become huge, a big name in the wine world in Chile. They achieved this with motivation, passion and hard work. Everybody thinks that they're a huge company, with lots of employees, but they're only a handful. They started producing only 500 bottles and after 10 years they have reached 100.000.
I'm very proud of them.
P- Do you have any hobbies?
M – I used to play paddle-tennis, but I am not doing anything at the moment… reading… meditating… I meditate on a daily basis since I was 18 years old. I was lucky to meet a hindu yogi… meditation helped me focusing then, and now. I love it.
P – How would you explain your work to an 8 years old child?
M – I harvest grapes during the Summer, and then I make a grape juice. Afterwards, I put a very, very little bugs in there – called yiest - and then the grape juice becomes wine.
P -To end this conversation, please answer these 10 short questions…

M – Ok!
Favourite Hammeken Cellars' wine? – Tosalet Vinyas Velles 2018
Favourite wine (non Hammeken Cellar's)? – Garage Wine
With whom would you share a good wine? – Gandhi
What type of music, singer or group do you like? – Several. I actually love the current Spanish indie music… Vetusta Morla, Love of Lesbian, Carolina Durante…
A book? – There are two Chilean novelists from whom I read everything they publish… The first one is Isabel Allende. The second Jorge Edwards. Funnily enough, Edwards published a book called "El inútil de la familia" Bueno, Edwards tiene uno, que me regalo mi familia… se llama "El inútil de la familia" (translated: the useless person in our family") – I got it as a gift from my family….(laughs)… I wonder if they wanted to tell me somehting…
A film? – Better said, a movie director: I loved the Three Colours trilogy (Blue, Red and White) by Kieslowski.
A place to get lost? – Ibiza. Always.
A secret you can confess? –A vice I can confess: I am addicted to black chocolate.
Countryside or beach? – Countryside to work, beach to rest.
Someone you admire? – My mother, for her spirit of sacrifice, strength and dedication.
P – Marcelo, I had a wonderful time! We need to do this more often! Thanks so much!

M – Me too! Good questions, also! Thanks to you!